Today is the 144th birthday of Marie Curie. It's true. There is even a Google Doodle.
And tonight on the news, no mention of it and certainly no mention of the International Year of Chemistry, a tribute to the achievements of Madame Marie Curie. Okay, so there was online coverage around the place.
That was it.
Come on, this is Madame Marie Curie, the first woman who won a Nobel Prize and the only person who has won two Nobel Prizes in two areas of science. Winning one Nobel Prize is a feat in itself but two? I was remonstrated for my lack of enthusiasm when told,
"eh, its a woman in science on a front page of major search engine…better than a kick in the arse."
and when I noted that Robert Bunsen got an animated bunsen burner doodle I was told,
"it's easier to animate a bunsen burner than something radioactive…."
The Google Doodle generated mentions on Twitter but don't they always? My measure of a Google Doodle success is seeing my entire Facebook feed, (anyone remember that?), is filled with people's statuses of "Go to Google and…". In all seriousness I saw more excitement over the ability of being able to tell Google to do a barrel roll.
The conversation around the place centred on Curie's life and achievements with a few fun facts thrown in like her lab notes and the tools she used  are too radioactive to handle. Visitors to France's Bibliotheque National need to wear protective clothing and to sign a waiver to open the lead lined boxes containing Curie's manuscripts.
I didn't see any examples of interviews with chemists today discussing the impact of Curie on not just in physics and chemistry but the world today. Nada. Just a few comments on how the Curies died of radiation poisoning and mention of applications of radioactive materials in smoke detectors and carbon dating.
At the beginning of the year, there was much reflection and introspection on the state of science with regards to the participation from women. The general statement was that women in science should be highlighted and that they should be seen more. I would have liked to have seen some mention of female chemists and their thoughts on Marie Curie. At least it wouldn't be yet another exercise in parading Madame Curie as the only woman who ever did anything in science.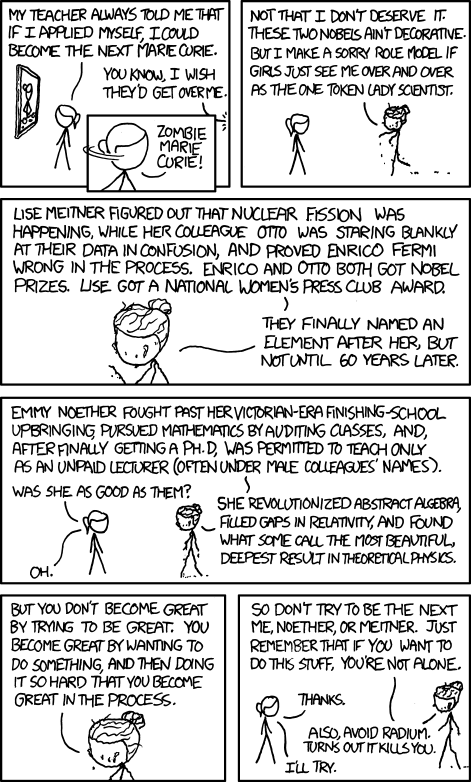 Related articles